What to Buy
at Pratunam market
Garments for sale in Pratunam Market cover a very wide range of styles, ranging from traditional Thai silk work, to funky modern BBoy vests, often with Thai inspired themes.
Not just the detailed craftsmanship for which Thais have been famous for generations are visible, but also their funky creativity in bringing new styles to Asia and the world. The term "fusion" could have been invented to describe the way Thai designers take their traditional motifs and adapt and blend them to modern styles and demands.
At the same time basic and practical office wear and casual clothes are also to be found in abundance. As a wholesale district principally we understand the need to stock boutiques around the globe with practical items that will sell reliablely.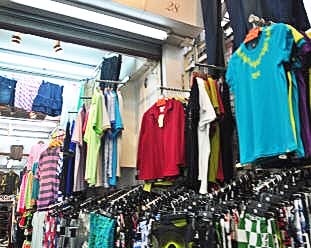 Many shops dedicate themselves to a particular style so that you may be sure that they are the experts on that style or type of garments. As well as traditional ethnic, there are also modern jazzy, many types of lingerie, swimwear and formal clothing.
Children's' and men's clothes are also available from many stalls, though as with any fashion district it is ladies fashion that has the largest variety.
Costumes for parties or recreation are also widely available at very reasonable prices.
As the market is providing wholesale supplies to boutiques around the world the garments are often marked in international sizes, and various choices of sizing are always available. This make the market particularly attractive to overseas visitors who need to buy the great garments made in Thailand, but in USA or Euro sizes.
A few shops are dedicated to accessories such as hats, watches and clutch bags, embroidered sandals and small leather goods such as handbags and belts are also found in the market.
As well as the actual shops and market stalls there are in and around Pratunam Market a wide range of street vendors selling all types of things to keep you going. From bottled water through snacks to garlands of traditional flowers.