Opening Hours
of Pratunam Market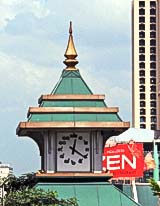 The first market of the day is the Pratunam Morning Market, but this runs from 6am until about 8am and is probably too early for most visitors. However if you are up with the sun, or perhaps jetlagged and can't sleep, or have young children who awaken early anyway, then do consider visiting Pratunam. The morning market vendors close around 8am though and the area is quite until later in the morning.
The Pratunam Center and the surrounding shops in the market streets of Pratunam open in the late morning, before 11AM there is little to see of shops, therefore schedule your visit to arrive at 11 or after when you will have both the malls, the shops and the stalls all open.
Shops in the Center and major shops along the roads start to close at 6PM, but don't worry as stalls outside and in many of the smaller roads continue to operate for another hour or until 7 or sometimes 8PM.
Even when most of the shops have closed in Pratunam market you will still find many things to see, to buy and to eat as the Pratunam Night Market gets started around 6PM on the road outside Pratunam Center.
Read more about the Pratunam Night Market.